Mouth Guards Night Guards

Cincinnati, OH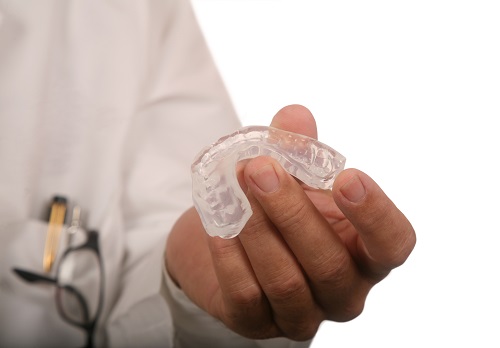 When it comes to mouthguards, there are two primary types: those designed to prevent tooth damage during sports and other athletic activities, and those designed to prevent damage to teeth caused by bruxism or teeth grinding. It's to be expected that the appearance and feel of appliances with such distinct functions would vary significantly.

Our dentists and at Sleep Apnea Solutions of Cincinnati can perform teeth inspection and get you the best mouth guards according to your need.


Types of Mouth Guards

The following are the various types of mouthguards:


Custom-Fitted

A dentist can build a mouthguard specifically for you by taking an imprint of your teeth. Premium mouthguards made to your exact specifications offer the most comfort and defense. If you grind your teeth while sleeping or need a mouthguard to protect your teeth during sports, you can have one designed just for you. The safest way to safeguard your teeth and gums is with a mouth guard made just for you.


Adjustable Mouth Guards

You can find other over-the-counter, adjustable mouthguards that can be adjusted. Use sliding pieces that fit in the space between your teeth while you sleep.


Stock Mouth Guards

These mouthguards are universally designed to fit any adult. They don't work well since they aren't designed to suit your specific mouth and teeth. Their poor fit and bulkiness can make it hard to breathe. The stock mouth guard is the least protective option.


Custom Mouth Guards for Insomnia

Even though it may not make sense at first, putting more objects in your mouth has been shown to be helpful for people with sleep disorders, including obstructive sleep apnea. However, if you're having trouble sleeping, you might need a mandibular advancement device. When you put this mouthguard on the lower arch, your tongue and jaw will automatically rearrange to keep your airway clear. The device may also be useful for people who suffer from severe snoring or nightly bruxism.


What to Expect When Getting a Mouthguard

You might require two visits to create a bespoke mouthguard. We will mold an impression of your teeth and send it off to the lab, where your mouth guard will be crafted to perfectly suit your teeth. The second appointment is to make sure the mouth guard fits properly after it has returned from the lab. We will next smooth down any rough spots and make any last modifications to ensure a flawless fit and a great aesthetic.


Wearing a Nightguard While You Sleep

You might be worried about the disruption of having anything artificial in your mouth while you sleep. Just like learning anything new, it requires a lot of patience. You should wear your mouthguard every night for at least a month before you can consider it a habit.


Preserving Your Mouthguard

You'll need to clean and disinfect your mouthguard after each use to eliminate bacteria. If you want your guard to last longer, try cleaning it with toothpaste after each use. Give it a good rinse and then soak it in a solution containing an antibacterial agent, such as diluted mouthwash or denture cleanser, once every couple of weeks. Maintain a dry environment and a well-ventilated container. Inspect the mouthpiece for any splits or rough spots that could cause irritation to your gums or harbor germs.


Contact Us Today!

At Sleep Apnea Solutions of Cincinnati, our dentist will inspect your mouth, guide you in the right direction, and provide you with custom-fit mouth guards.