Sleep Apnea Technology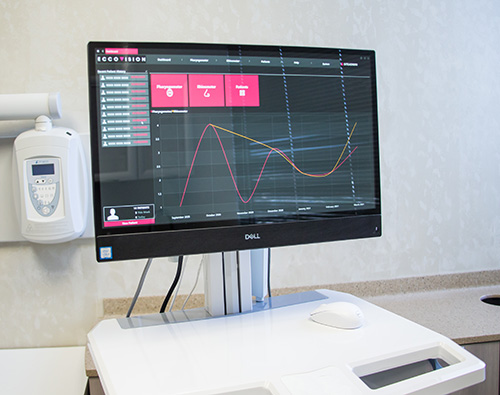 Every industry has its tools of the trade and sleep dentistry is no different. At Sleep Apnea Solutions of Cincinnati, our office uses leading technology, including instruments known as the pharyngometer and rhinometer as a way to test patients' oral and nasal airways. The pharyngometer is a tool that measures the oral airway, while the rhinometer measures the nasal airway. Both send sound waves into the body's specific airways and measure the sound waves that are bounced back to help indicate the size of the airway, as well as any issues located within. This unique assessment technique is an ideal way to determine the location and severity of sleep-related snoring and breathing problems. Using this information, we can help determine the best course of treatment for each individual. If it's found that an oral appliance is needed, the data provided from the pharyngometry allows it to be designed as effectively as possible for the sleep apnea specific patient.


Pharyngometry

The process of pharyngometry is quick, easy, and painless. A patient sits upright and places the pharyngometer mouthpiece into their mouth. They are asked to do some breathing exercises while sound waves measure the airway volume that is created. This allows the practitioner to determine the exact source and location of the airway problem. A bite jig is then put into the patient's mouth to estimate the placement of an oral appliance and help determine the best starting location to stabilize and open the airway. This allows for exact fitting of the oral appliance that will be made for the patient to wear. The test is non-invasive and takes only a few minutes.


Rhinometry

A rhinometer is similar to a pharyngometer in that it is easy to use. However, instead of measuring the size of a patient's pharyngeal airway, it allows for measurement of a patient's nasal airway. Sound waves are sent into the nasal passages and reflected back, offering a view of the airway including any blockage occurring inside. Patients with allergies, congestion, and a number of other upper airway issues can all benefit from this screening. The test is non-invasive and can be done rather quickly.

Sleep apnea is a serious issue and one that you shouldn't hesitate to treat. Luckily, with our tools and technology at Sleep Apnea Solutions of Cincinnati you'll be on the road to a better night sleep before you know it. With techniques and instruments like the pharyngometer and rhinometer at our disposal, we can offer you a quicker and easier approach to solving your sleep apnea issues than ever before.

If you or a family member needs a solution for sleep apnea, don't wait to call us today at (513) 991-2520 so we can start treatment as soon as possible.